Zhang Dali (Harbin, 1963) is a performance artist, graffiti artist and sculptor, from the Peoples Republic of China. In the 1990s when, in terms of economics, China started to become increasingly open to capitalism, there came about more room for – and a greater desire for – freedom of expression. It was in this period that Zhang Dali became an important figure in the Chinese art world.
The underclass in Chinese society
His activism is aimed at the emancipation of the underclass in Chinese society. In a country that is ruled by communism this accusation is painfully ironic; after all, ideology assumes the sovereignty of the worker. Zhang Dali saw a metaphor that he can put to good artistic use in the ever-increasing construction activities. Not only Beijing, but also Shanghai and other large Chinese cities became huge building sites. The cities grew and were transformed. Old urban neighbourhoods and historic housing blocks were demolished, making way for giant office buildings and modern highways. In some instances, inhabitants had to leave their homes in haste to escape the oncoming wrecking balls.
AK-47
Zhang Dali used spray paint to apply his own portrait contour to the buildings, often also with the markings AK-47 (referring to a Russian assault rifle). This mirrored the brutal markings of the demolition contractors, who spray-painted the character chai in a circle on the wall. Chai means demolish. Zhang Dali's graffiti was sometimes the template for sawing out the contours of the circle, in order to enable him to take a photograph – always of a view of a new office block – through the hole in the wall that was scheduled for destruction. The old world was being demolished to make way for a new one. Is the past over and done with? Is the present better?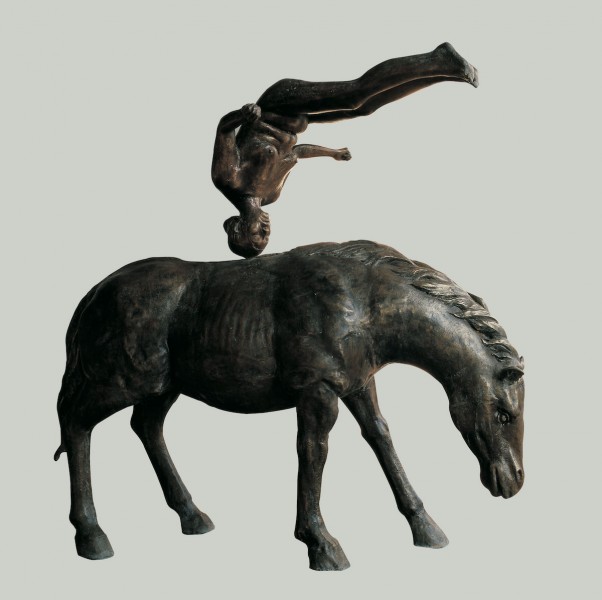 100 Chinese
In the second half of the 1990s and in the run-up to the 2008 Summer Olympic Games, building activities in China were intensified. At their peak there was a group of 300 million urban peasants at work in the construction industry, sleeping in containers or in sheds, with their only private space being a bunk bed. They travelled from city to city, from job to job. Zhang Dali wanted to give back their identity to these modern, travelling serfs. He began by making casts of their bodies and their heads. He then created installations made up of one hundred portraits exhibited in a row (100 Chinese), or of a sort of cloud of their bodies hanging upside down (Chinese Offspring). The bodies are numbered as a sign of the fact that they are treated as a number; they are in fact dehumanized.
The language of Zhang Dali
The successful artist Zhang Dali does not limit himself to a single medium. He paints, sculpts, and gives performances. He has not only developed a highly individual artistic language that is extremely interesting to collectors and art-lovers, he is also a champion of the humanity and compassion that is sometimes sorely lacking in the hard lives of millions of Chinese.
Download the Zhang Dali-app
This interactive art catalog provides the visitor with the opportunity to view and share all the works of Body and Soul at home. The app also includes additional content such as interviews, background information, photos and videos.
Download the app here: App Store or Google play
Catalogue
In order to obtain the catalogue Zhang Dali: Body and Soul please contact Frédérique Brinkerink via Brinkerink@sculptuurinstituut.nl
There is a supplier in Amsterdam: Boekhandel Premsela, Van Baerlestraat 78, 1071 BB Amsterdam, tel. 020-66224266