BLVD is the public space exhibition series of museum Beelden aan Zee at the boulevard of beach resort Scheveningen, right in front of the museum. The initiative for an annual exhibition of three monumental sculptures on new plinths in the dunes was made possible by the City of The Hague. The exhibition is accessible day and night and will be in place for one year beginning on the first of September, 2018. The current exhibition showcases unusual brightly colored sculptures by the Flemish visual artist Arne Quinze (1971).
With Natural Chaos, the artist wants to draw the public's attention to positive influences of art on people. He dreams of cities as open-air museums, and asks questions such as "What happens when something unusual breaks in our everyday environment? Will we embrace it or reject it?"
At first glance, the artworks seem to be a fragile mix of bronze rods and colored glass particles. However, they turn out to be a persistent, powerful dialogue, just like nature itself.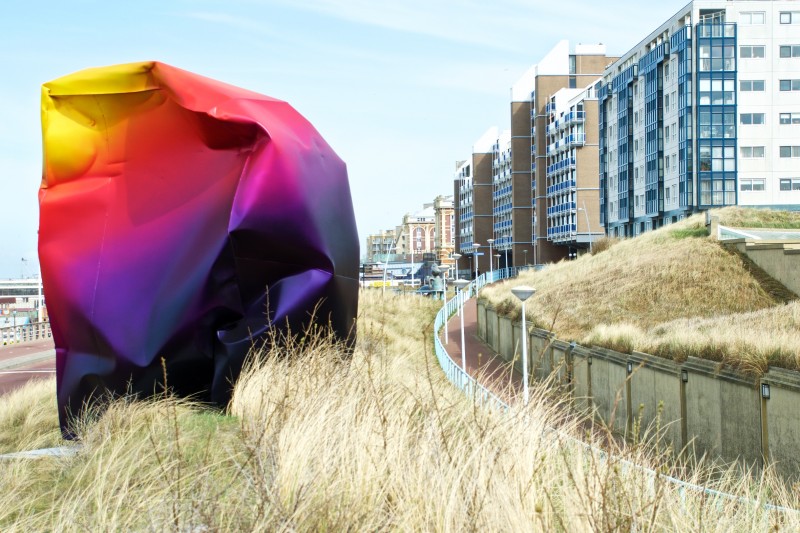 Provocation of communication and social interaction is the greatest artistic motive of Arne Quinze. Around the world, in cities like New York, Beirut, Paris, Shanghai and São Paulo, he has managed to surprise many with his monumental public constructions. Because of their volume and intensity, his images exert a strong influence on the urban and architectural context of their environment.
Arne Quinze works and lives partly in Sint-Martens-Latem, Belgium and partly in both Shanghai and Los Angeles. He began in the eighties as a graffiti artist. He has since gained fame and recognition through his extensive, often controversial constructions which he creates for the public space. Recurring elements in Quinze's oeuvre are the use of different materials, electric colors and themes such as social interaction, communication and urbanity.